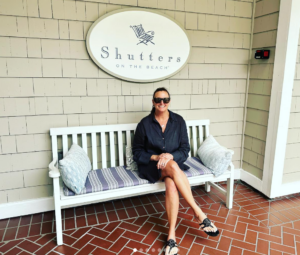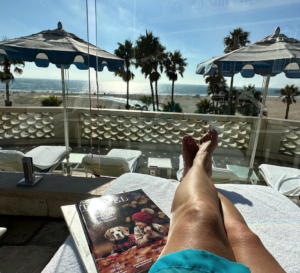 Santa Monica's surfer vibe and laid back style is the perfect spot for a fall weekend. Autumn's temperatures boast sunny afternoons in the 80's, followed gorgeous west coast sunsets. Two hotels top our list of the best beachy stays for Fall getaways.
Shutters on the Beach If you're yearning for a SoCal beach house where you're always the invited guest, and never have to be the host, this is your spot. As you hop off the 10 freeway, zip down Pico Boulevard to, quite literally, where the road ends in the sand. Toss the keys to one of the friendly valets and let the ocean breeze welcome you into this iconic hotel. One step inside Shutters' living room and you'll see why it's a hotspot for celebs meeting their agents, couples canoodling over cabernet in front of the huge fireplaces, while families enjoy the 3rd floor pool or build sand castles right out the door. Jump on one of their complimentary cruiser bikes to pedal down the path to people watch in Venice at one of strand's many outdoor terraces. Make it back in time to see the epic sunset over the Santa Monica Pier, and enjoy California coastal cuisine at 1 Pico Shutter's in house restaurant overlooking the sand. Head back to the gorgeous beach chic rooms with huge bathtubs, just waiting for you to put your feet up and relax. Don't miss morning brunch at Coast, downstairs on the sand  – get the Lobster Rolls and a Titos' Bloody Mary (with bacon!). Perfect end to a sunny fall weekend.
Hotel Casa Del Mar The sophisticated sister property, Casa del Mar, is right next door, but worlds away in style. Think Mediterranean villa meets beach glam from the moment you walk into the double stair cased lobby filled with art and architectural pieces that make you walk every space of the place just to see what's around each corner. The rooms are light and bright – blues, greens and grays greet you like a big warm hug inviting you settle in. Marble bathtubs and high ceilings add to the European style. Don't miss dinner in Terrazza for a gastronomic trip to the Amalfi coast, followed by a martini in the Lobby Lounge over live entertainment and a buzzy crowd.
If you can't decide where to lay your head, do like we did  – take a long weekend and stay at both. The staff will even move your luggage while you're busy basking in the late summer sun. Both Shutters on the Beach and Hotel Casa Del Mar are part of Well Traveled Texan's Fine Hotel & Resort Program, with complimentary daily breakfast for 2, a $100 resort credit and upgrade if available at check in when you book through us. Let us VIP you for extra love in one of these stunning properties by the sea.